13 - days Southern Explore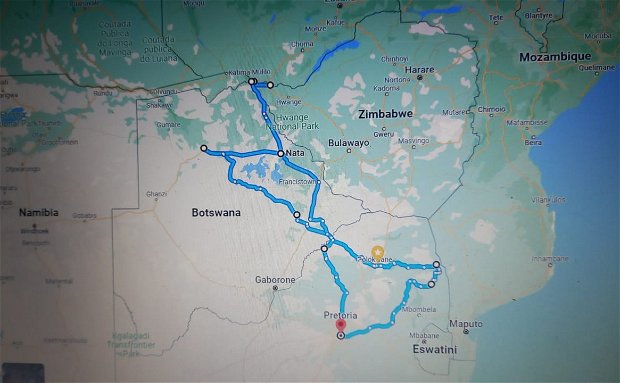 Discover southern national parks – plus Explore the wildlife that calls them home – on this 13-day adventure. Canoe down the lush waterways of the Okavango Delta, watch hippos wallowing along the shores of the Chobe River, safari in the vast parks of Moremi, Kruger and Chobe and sleep under the stars in a bush camp, on the Delta, and a village homestay. Join Explendor on an adventure through southern Africa's most beautiful landscapes in search of elephants, lions, rhinos, warthogs and leopards.
We start this 13-day trip in Johannesburg down into the Kruger National Park, to the West into Botswana, and right up to the North to Victoria Falls and back to Johannesburg. 
Gallery
Itinerary
We pick you up from OR Tambo International Airport and take you to the Lodge/Hotel that you had booked for the night. We will have a short briefing about the trip.
Day 1
Kruger National Park

Welcome to South Africa! Your adventure begins as we pick you up at 08h00 at the Lodge/Hotel just after you had breakfast and make our way to the Lowveld of Mpumalanga. We stop en route for lunch, before we continue to the Kruger National Park. Along the way, there will be an opportunity to stop at a shop or market for any camping supplies you or the group might need. One of the largest game reserves in Southern Africa, Kruger National Park is home to over 500 bird species, 100 species of reptiles, and 150 mammal species, including the Big Five and the endangered African wild dog. Your wildlife experience begins as soon as you enter the park. You will head straight into prime game viewing areas, spotting anything from antelopes and elands to cheetahs and rhinos. We go on a sunset drive with the ranger of the Park. 
Meals:
Dinner
Day 2
Kruger National Park

Rise early and have a light breakfast of coffee and rusks before embarking on a full-day game drive in the truck. Most of the day will be spent game viewing, bird watching and stopping at various waterholes and viewpoints. Depending on the season, you might catch sight of a saddle-billed stork with its distinct red beak, or the blue waxbill which is commonly found foraging for seeds in the scrub. In the afternoon when it's warm, take some time out to relax. Later on, head out on a night drive with local park guides to spot nocturnal animals and perhaps even a night-time predator or two. Night drives provide the opportunity to spot Kruger National Park's secretive nocturnal creatures and watch their activities in their natural environment. This drive traditionally lasts between 2 and 3 hours and you can expect to see a vast selection of nocturnal animals such as nightjars, servals, African wild cats, springhares, and owls.
Day 3
Kruger to .Botswana Border
We leave the park as the gates open and continue our journey close to Martins's drift border post where we leave just after Breakfast and make our way to the border. We will stop at the filling station to fill up before we headed to Khama Rhino. Situated on the edge of the Kalahari Desert, the Khama Rhino Sanctuary has drastically changed from a former hunting area to a conservation project. Built to protect Botswana's only remaining populations of both black and white rhinos, the sanctuary is also home to other wildlife including zebras, giraffes, leopards, ostriches, and wildebeest, all of which can be seen grazing the many waterholes. Visiting this project benefits local communities and directly contributes to protecting the endangered white rhinoceros. Later on, head out on a dusk game drive to see the rhinos when they are most active.
Meals:
Breakfast and Dinner
Meals:
Breakfast, Dinner
Day 4
Khama Rhino Sanctuary. to Maun
We have breakfast before we headed northwest throw the central Kalahari to Maun. About 9 hour's drive. Here there will be an opportunity to stock up on any supplies you might need for your adventure ahead. Maun is the gateway to one of the world's most complex ecosystems, the Okavango Delta. This place is unlike anything in the world – a 16,000-square-kilometer maze of lush wetlands and waterways teeming with wildlife. You might see hippos, crocodiles, elephants, and big cats, but it's the animals aren't the only drawcard here – the waterscapes and shimmering horizons will have you gazing for days.
Meals:
Breakfast, Dinner
Day 5
Into the Okavango Delta
Just as you think nothing can beat the past few days then it is here again.  We going into the Delta and will camp on one of the Islands. We jumping aboard a traditional mokoro – a dugout canoe steered by friendly local 'polers' – for an Okavango waterways experience. With some luck, you could spot some of the delta's unusual wildlife and exotic birdlife. Spend some time today exploring the maze of lagoons, lakes and streams on foot too, led by experienced local guides. Tonight, you'll camp on a remote island right in the heart of the wilderness, falling asleep to the humming and buzzing of the African heartlands.
Meals:
Breakfast, Lunch.Dinner
We watch the sun rise over the Delta, and have some breakfast before we make our way back to Maun.  Here you will have the chance to take a scenic flight over the Delta and get a good view from the sky and visit the town on your own.
Meals:
Breakfast, Dinner 
We continue our trip today to the east and to Elephant Sands is situated near the stunning Makgadikgadi Salt Pans which are some of the largest on earth, covering around 12,000 square kilometres. This afternoon, take the opportunity to explore the salt pans in an open vehicle. They are naturally dry and salty for a large part of the year, and during this time, the arid landscape has an eerie feel to it as the shimmering mirages disorientate the senses. At other times they take on a layer of grass and, as soon as the rains hit, become a refuge for migratory birds and animals.
Meals:
Breakfast, Dinner
Hit the road from Elephant Sands to Chobe National Park. Botswana's first national park is perhaps best known for its high concentration of elephants, which can often be seen swimming in the Chobe River. The river also attracts wallowing hippos, a variety of birdlife, crocodiles sunning themselves by the water's edge, and cheetahs and lions coming down to drink. Enjoy a sunset cruise on the Chobe – an ideal way to spend the afternoon and toast to another day in Africa or just explore the town.
Meals:
Breakfast, Dinner
Today we wake up early as we go into the Chobe Game reserve, for a 3-hour game drive. When we are back, we have brunch and then make it to the Kazuncule border where we enter Zimbabwe. We visit the Falls before we book ourselves for the optional activities for the next day. 
Meals: Brunch, Dinner
Today we spent the day at our own leisure, as we do the activities that we had booked the previous day. 14H00 we get together to go on a dinner cruise on the mighty Zambezi River.
We continue our journey to Nata. We have lunch before we go into the magadigadi pans to have a sundowner in the pans.
Day 12
Nata to Buffalo Thorn
Today we continue back to South Africa, and to Buffalo Thorn Safari Lodge, Here we will have Lunch and relax around the pool before we go on a game drive. We have a hearty dinner and then call it the day.
Meals: Breakfast, Lunch, Dinner
Day 13
Back to Johannesburg
We leave just after breakfast and say hello to the cement jungle of Johannesburg again where we say our good buys as we drop you at the Lodge that you had booked.
meals: Breakfast